By Kishalay Bhattacharjee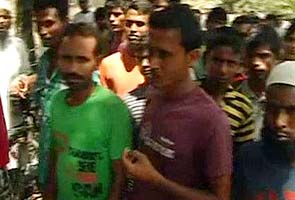 Kokrajhar:
20 minutes from Kokrajhar town through lush green fields and a forest is Pakritol village. Not a recent habitat but a very old settlement with neat rows of houses. We hesitate to enter knowing that people there must be agitated. An Army convoy with red flags overtake us to go into the village and we follow them. A crowd waiting at the bend and a family mourning. But this is not from Monday's violence. We learn that someone keeping unwell has passed away. We are then led to the scene of destruction.
A father sits on the roadside unable to speak. His 16-year-old daughter was hit by a bullet on Monday evening. His world seems to have slipped beneath. Four persons were hit by bullets the same evening.
The villagers narrate the nightmare blow-by-blow but we know that we can't stay here for long. Emotions are running high and a lone media crew can easily become a target for their anger and frustration.
We are shown evidences of Monday evening's attack. Objects meant to torch houses; the attackers spilled some inflammable fluid, probably Mobil, to set fire. They also left behind a pair of sneakers and sandals and while running away they shot at a girl who is now battling for life in a Guwahati hospital.
Though they haven't been able to torch houses, they set some haystacks on fire and then they moved across the village firing several rounds of which we have been able to collect evidence. A villager takes me aside to show a dozen bullet shells. All AK-47 bullets. They claim they collected 3000 of them.
Everybody wanted us visit their home and inspect the bullet marks. In one house the wall next to the bed was shot at. The family then preparing to sleep escaped unhurt.
Every single house in this village was fired at. People fled and that is how the casualty is low. But the bullets were flying and hit domestic animals. Several cows were bleeding. This has been a pattern elsewhere in the state as well. The attackers don't spare even the livestock.
Mutiur Rahman, a young man calmly explains that, "We are not blaming the Bodos, we are accusing the government here." His anger shows and the pitch of his voice rises, "Yes it is definitely work of militants, the weapons used look at how they have fired at... the government here, Bodoland Territorial Council (BTC), is responsible for this... we want Army rule here... we want security, if we don't get security we will block the railway and let police fire at us or kill us, we are ready to commit suicide."
Not just bullets to kill and mashals to torch the village. They came armed with bows and arrows as well. We found an arrow which came and hit a television screen while people were watching the evening soap.
The Chief Minister had sent six of his senior ministers to tour the area. All India Congress Committee (AICC) had also sent a team. Both admitted that the Bodo autonomous council members who are former militants must be reined in. While rushing out to visit another site, Parvez Hashmi, a Member of Parliament, is in agreement that the Bodo legislators running the autonomous council must own up this time. "If before 2011 they were voters and have voted and elected BTC MLAs then they are residents of this place and after 2011 whatever people have entered this place we will decide their fate accordingly."
There is enough evidence with the government now that the violence continuing for the last five weeks was also militant violence and not just ethnic violence. It is political violence propped up and backed by militant bodies. The chief minister is fast running out of options but the first step could be to start disarming the population using guns to prove their point.